I received products/compensation in exchange for this post. All views and opinions reflect those of my own. Sponsor is responsible for prize fulfillment.
Does your family have a fun or crazy tradition that you've kept going through the years? Our family is all about capturing the smiles. From the time I was a little girl, every Christmas Eve on my dad's side we always gather for a group shot. When we were all younger it was a time we would dread posing for pictures for all of our parents, but now that my cousins and I are older we're the ones posing our children and grandchildren.
Life is precious. Hug them tight. Cherish your time together. If you follow my fan page on Facebook you may know that in September my cousin's 19-year-old son along with his best friend were both hit and killed by a drunk driver. After this tragic loss of Trevor, this holiday season holds a bittersweet feeling for both families. We won't be making new memories with him this year, but we cling to all of our past photos and sweet memories. Now we celebrate our very short time we had with him. We find ourselves hugging those that are with us a little bit longer and not holding back the "I Love You's." We've all come to realize just how precious those pictures are, and that our time together is the best gift we can give!
This holiday season I'm happy to team up with Catholic Central to celebrate family traditions and promote spending more time with those you love. Their "Christmas Fun In 5" initiative is inspiring families to find more ways to have fun together and make new traditions together. Download the free printable and start your own "Christmas Fun In 5" with your kids!
About CATHOLIC CENTRAL:
You have questions about the Catholic faith and what it means to be Catholic. We have answers. Using a team of witty writers, appealing hosts, and even some learned theologians, we've created shareable, snackable videos that teach the timeless truths and deep history of the Church with humor and heart. Produced in the Family Theater Productions studios on Sunset Boulevard in Hollywood, CATHOLIC CENTRAL entertains, enlightens and inspires.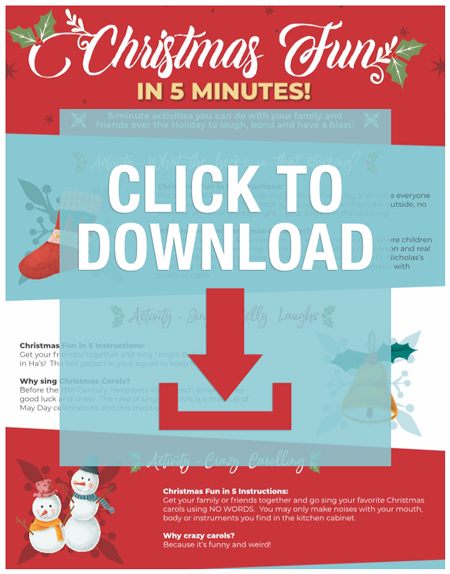 Enter the Giveaway!
One lucky entrant selected by the entry form will receive the Classic Game Kit from Catholic Central! (ARV $40) Please note: Games will vary, the sponsor is responsible for selection. Open to those in the US, 18 years and older. No P.O. boxes. Open for entry from 12/14-12/28/18 at 11:59 pm EST. The winner will have 24 hours to respond to the notification email to claim this prize or a new winner will be selected. If you or a member or your household have won this prize on another blog you're ineligible to win again. Sponsor will verify. Be sure to scroll down for more giveaways!
The Christmas Classic Game Kit includes:
An assortment of four different classic games which will be chosen by random. The list includes Monopoly, Sorry, Connect 4, UNO, Pictionary, Twister, Operation, Apples to Apples, Life, Simon, Battleship, and more!
a Rafflecopter giveaway