This is an affiliate post. See Disclosure.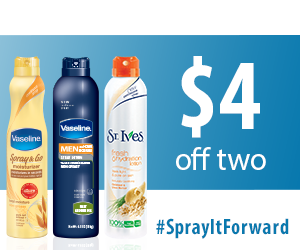 Skin feeling a little dry this Winter? Spray on some moisture with Vaseline Spray & Go!
This is one of my favorite lotions to use! I didn't even know they have it for men now too. Going to grab some for my husband he has dry skin this time of year too.
Save up to $4.00 off of two Vaseline or St. Ives® spray lotions – Vaseline Spray & Go Moisturizer, Vaseline Men Spray Lotion, or St. Ives® Fresh Hydration Lotion
Receive one $2 off coupon for you and another $2.00 off coupon - up to $4.00 total - when you #
SprayItForward
and share with friends.