I received product/compensation in exchange for this post. All views and opinions reflect those of my own. Sponsor is responsible for prize fulfillment.
It's the little things that can really have an impact. Gifts of time spent with loved ones and gifts from the heart are remembered long after the moment has passed. As we approach the beginning of fall I'm reflecting on so many great memories and hugs enjoyed with the ones I love. We're pleased to kick off our fourth annual September To Remember event featuring unforgettable gift ideas.
"I Like Warm Hugs". I think it's safe to say that's one of the most iconic lines from the movie Frozen and one that sticks with you days after watching the movie. Just ask my kids!
BlankieGram
is a fun company that focuses on giving. And what better thing to give than a warm hug? BlankieGram is giving one reader a chance to win a HUGS blanket for those chilly fall nights by the bonfire or watching your local high school football game.
Giving is at the Heart of BlankieGram
BlankieGram grew from a spark of an idea between two old friends: to be able to send a loving and thoughtful gift to somebody when you couldn't be there in person to give them a hug.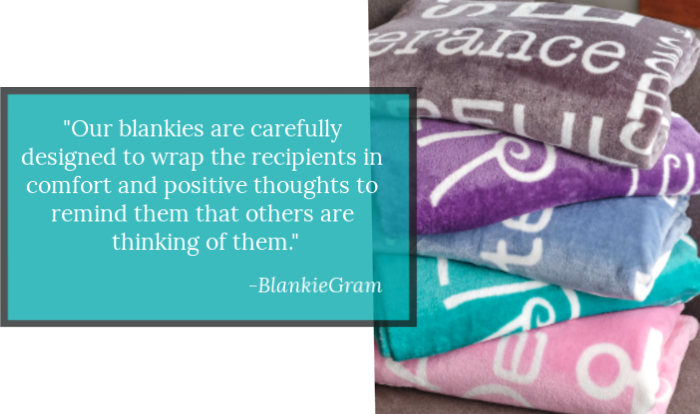 Our blankies are carefully designed to wrap the recipients in comfort and positive thoughts to remind them that others are thinking of them. When our "Healing Thoughts" blankies became quickly so popular, we realized they would make great gifts for other life events, so we put our heads together and the ideas flowed. We now offer blankies that support healing, comfort, bravery, meditation, faith, honor mothers, and that wrap all kinds of soft, warm hugs around the recipients.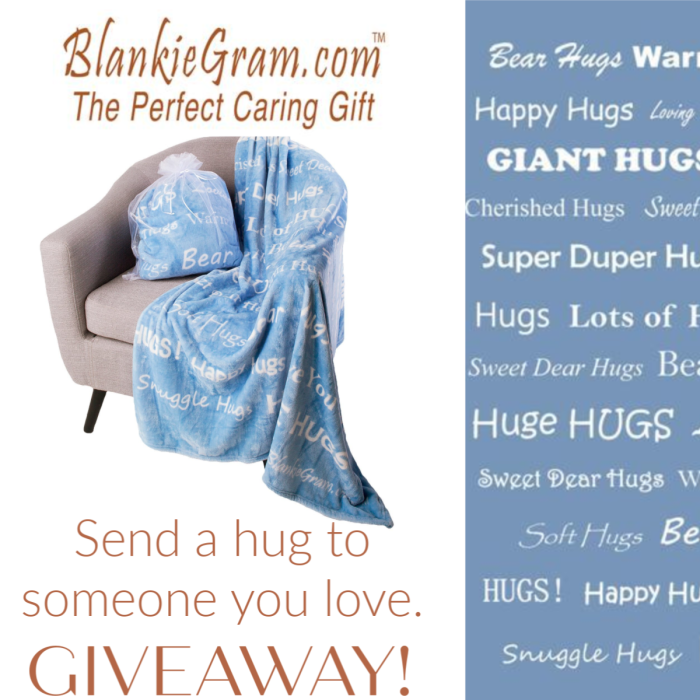 This Fall, National Geographic Kids Books are simply "PAW-some!" With the titles below, kids can learn all about courageous dogs with jobs, whip up some purrfect cat science, figure out their favorite breed of fur-friend and learn how to choose, care for and train their pet — feathered, furry, scaly or shell-covered! Perfect for the at-home library, lap reading with the kiddos and holiday gift-giving, these books are great for the cat and dog-obsessed and for families looking to bring home their first four-legged friend.
Cat Science Unleashed: Fun Activities to Do With Your Feline Friend
Part of the hugely successful Hands-On Science line (Dog Science Unleashed Fall 2018) Cat Science Unleashed contains 22 safe and cat-friendly activities that let you work alongside your cat to discover how your amazing feline friend thinks, moves, drinks, stays warm, gets clean, cools off, and more. Step-by-step instructions, clear and interesting scientific explanations, and cool photographs shot specifically for this book reveal how catnip affects your kitty, how she can see so well in the dark, why she always lands on all fours and techniques for testing her vitals and tracking her fitness. Also includes a behind-the-scenes look at current feline research.
NEW SERIES ALERT! Calling all dog lovers! Doggy Defenders is brand new picture book series debuting with four titles: Dolley the Fire Dog, Stella the Search Dog, Tiger the Police Dog and Willow the Therapy Dog. In each hardcover book, kids can follow the real-life adventures of dogs with jobs as they help their communities and save the day.
Dog Breed Guide: A Complete Reference to Your Best Friend Fur-Ever
From dachshunds to Dalmatians and poodles to pugs, this comprehensive guide gives an overview of more than 400 different dog breeds. Each profile includes the breed's "dog stats": country of origin, size, coat color and pattern, grooming difficulty, exercise needs, and "K-9 qualities."
Cat Breed Guide: A Complete Reference to Your Purr-Fect Best Friend
From Russian Blues and Munchkins to Maine Coons and Persians, this comprehensive guide gives an overview of 71 different cat breeds. Each profile includes the breed's "cat stats": country of origin, size, coat color and pattern, grooming difficulty, and cat-titude.
Little Kids Big Book of Pets
In the next book in the hit Little Kids First Big Book series, readers learn all about pets with fur, feathers, fins, scales, and shells--and how to find and care for the perfect pet for their family. From cats to dogs to guinea pigs to birds to fish to snakes and more, this reference book introduces kids to a wide variety of family-friendly pets. Readers learn which kinds of animals make good pets and which ones are better off staying in the wild, along with how each type of pet eats, sleeps, and plays.
Enter the Giveaway!
ONE entrant will be selected from the entry form to win a blue HUGS blanket and National Geographic Kids Book Prize Package! ($148 ARV)
Open for entry in the US only and must be 18+ from 09/10/19 at 12:01 p.m. ET thru 09/24/19 at 11:59 p.m. ET. No purchase necessary. Void where prohibited. A winner will be chosen after/around September 25, 2019. The winner will have 24 hours to respond to notification email to claim their prize or a new winner will be selected. See Rafflecopter for official rules. The Mommy Island and participating bloggers who have a sponsor are not responsible for sending the winner their prize.
Twitter 'head' profiles and dummy accounts are ineligible for entry and will be blocked. Authentic accounts only are eligible to win.
a Rafflecopter giveaway